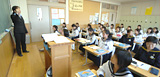 The youth who will shoulder the 21st century must learn to adapt to internationalization. So education is carried out at our junior High School in order to adapt to such an internationalizing society, with the goal of learning to respect others and to become someone who can coexist with other nationalities and nature.

From the 1st to 3rd year of junior High School, curricula focusing on international understanding is applied in all subjects, from English to special activities and daily guidance, such as providing an English conversation class taught by a native English speaking teacher every week. This training culminates in all 3rd year students going to Australia on a study tour.

Also, students can apply for language training and a home stay at our sister school in Washington State, U.S.A., twice a year in the spring and the summer, or language training and a home stay in England in the summer. About 80 students participate in these study tours each year, garnering significant international experience.

Furthermore, new opportunities for international exchange are provided, such as a program to stay in Australia after the tour study for 2 additional weeks of language training, and a one month long student exchange system with students from our sister school in Washington State.



Regarding admissions for children returning from overseas


This school offers a system to admit Japanese children and students who have lived overseas and have returned to Japan to our junior high or High School, in other words, to accept the "Admissions of Overseas Returnees".

As more and more Japanese are filling the overseas stage in a wider range these days, enhancement of educational institutions to accept returnee children upon their return to Japan is also desired. This school, by actively promoting the admissions of such children, responds to the needs of society and strives to become a new generation campus with a rich international sense, in order to contribute to the development of capable human resources.

And while the length of stay and the form of schooling received may vary, the experience obtained while overseas is invaluable, and from the standpoint of sharing international culture, the influence given to other students is great. Students who have been accepted up to now have generally been quite active, and have a flexible and broadminded way of thinking. We desire that they fully exercise these traits, as well as the language skills they have developed, contributing to the invigoration of the school.